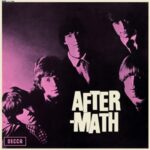 Aftermath, released in 1966, is the fourth studio album by The Rolling Stones. The album is notable for being the first album by the band to consist entirely of Mick Jagger/Keith Richards compositions, and for its diverse range of musical styles, including rock, pop, folk, and blues.
The album opens with the iconic "Paint It Black," a moody and hypnotic track that features a prominent sitar riff and Jagger's haunting vocals. Other standout tracks include "Mother's Little Helper," a catchy pop song with biting social commentary on the use of prescription drugs, and "Under My Thumb," a dark and brooding track that showcases Jagger's seductive vocal style.
The album also features several blues-inspired tracks, such as "Stupid Girl," a driving rocker with a catchy guitar riff and Richards' distinctive backing vocals, and "It's Not Easy," a soulful ballad that features Brian Jones' masterful use of the marimba.
One of the album's strengths is its diversity, with tracks ranging from the bluesy "High and Dry" to the folk-inspired "Lady Jane" and the rock-driven "Out of Time." The album concludes with "Goin' Home," a 11-minute long blues jam that showcases the band's musical prowess and improvisational skills.
Overall, Aftermath is a masterful album that showcases The Rolling Stones' range and versatility as a band, and cements their status as one of the most important and influential rock bands of all time.
Track Listing:
Mother's Little Helper
Stupid Girl
Lady Jane
Under My Thumb
Doncha Bother Me
Going Home
Flight 505
High and Dry
Out of Time
It's Not Easy
I Am Waiting
Take It or Leave It
Think
What to Do
This post has already been read 61 times!