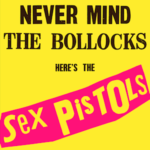 Sex Pistols' "Never Mind The Bollocks, Here's The Sex Pistols," released in 1977, is a seminal punk rock album that shattered conventions and became an anthem for rebellion. It is a raw, provocative, and unapologetic record that captured the spirit of the punk movement and left an indelible mark on the music industry.
From the opening track, "Holidays in the Sun," the album grabs the listener's attention with its blistering guitars, aggressive vocals by Johnny Rotten, and relentless energy. The album is filled with iconic punk anthems like "Anarchy in the U.K.," "God Save the Queen," and "Pretty Vacant," which became rallying cries for disenchanted youth and a scathing critique of societal norms.
The album's production, helmed by Chris Thomas, is intentionally stripped-down, showcasing the rawness and urgency of the band's sound. The guitars of Steve Jones and Paul Cook's relentless drumming provide a solid foundation, while Glen Matlock's bass lines add depth and drive to the songs. Rotten's sneering vocals and confrontational lyrics perfectly embody the punk ethos.
One of the strengths of the album is its unapologetic attitude and rebellious spirit. The Sex Pistols tackle social and political issues with a confrontational and often confrontational approach. Tracks like "God Save the Queen" and "Bodies" challenge authority, while "Anarchy in the U.K." reflects the disillusionment and frustration of the era.
While the album is primarily known for its punk anthems, it also showcases the band's ability to experiment and push boundaries within the genre. Songs like "Submission" and "EMI" incorporate elements of reggae and art rock, adding variety and depth to the album's sonic landscape.
"Never Mind The Bollocks, Here's The Sex Pistols" is a defiant statement that captures the essence of punk rock. It is an album that challenged the status quo, confronted social norms, and sparked controversy. Its impact on the music industry cannot be overstated, as it influenced countless bands and paved the way for the punk movement to flourish.
Beyond its cultural significance, the album remains a thrilling listen. Its raw energy, aggressive guitars, and provocative lyrics make it a timeless punk rock classic. The Sex Pistols' fearless and unapologetic approach to music continues to resonate with listeners, ensuring that "Never Mind The Bollocks, Here's The Sex Pistols" remains an essential and influential album in the history of punk rock.
This post has already been read 91 times!