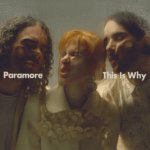 Paramore's sixth studio album "This Is Why" has been highly praised by critics and fans alike. The album features a collection of 10 songs that showcase the band's casual, confident musicianship and their ability to deliver a cohesive and engaging album. The album's sound is a mix of pop, rock, and electronic influences, with each song exuding enthusiasm for the band's craft
The album's opening track "Crave" is dainty and dreamlike, while "The News" is more aggressive and reminiscent of the band's earlier work on "Riot!"
The album's co-producers, Justin Meldal-Johnsen and Taylor York, have helped to create a polished and well-crafted album that showcases Paramore's evolution as a band. The album's sound is both nostalgic and fresh, with nods to the band's past work and a modern twist that keeps it relevant
The album's lyrics are introspective and relatable, exploring themes of love, heartbreak, and self-discovery. The band's ability to convey complex emotions in a relatable and accessible way is evident throughout the album. The album's title and cover art evoke a sense of carefreeness, but the lyrical content is far from it
Critics and fans have recognized the album's impact, with "This Is Why" becoming one of the best albums of 2023
The album's commercial success and popularity further solidify Paramore's position as a dominant force in the alternative rock industry.
Overall, "This Is Why" is a strong addition to Paramore's discography. The album showcases the band's evolution as musicians and their ability to deliver a cohesive and engaging album. The album's mix of pop, rock, and electronic influences creates a unique and captivating sound, with catchy hooks and relatable lyrics. With generally favorable reviews from critics and fans alike, "This Is Why" is a testament to Paramore's talent as a band and their ability to connect with listeners on an emotional level
This post has already been read 35 times!