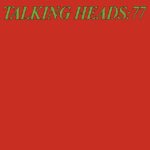 Talking Heads' debut album, "Talking Heads 77," released in 1977, is a groundbreaking and influential record that captures the band's distinct blend of art-rock, new wave, and punk sensibilities. It is a testament to their unique vision, innovative songwriting, and charismatic frontman, David Byrne.
From the opening track, "Uh-Oh, Love Comes to Town," it is clear that Talking Heads bring a fresh and unconventional approach to rock music. The album is characterized by its angular guitar riffs, propulsive rhythms, and Byrne's distinct vocals that alternate between quirky and charismatic. Each song on the album is tightly constructed, with concise arrangements that emphasize the band's distinctive sound.
One of the album's highlights is the infectious "Psycho Killer," a song that exemplifies Talking Heads' ability to create catchy hooks and memorable melodies. It showcases Byrne's distinctive vocal delivery and introspective lyrics, creating an intriguing juxtaposition of darkness and pop sensibility.
The band's inventive use of percussion is another notable aspect of "Talking Heads 77." Tracks like "Pulled Up" and "Don't Worry About the Government" feature polyrhythmic grooves and percussive elements that add a unique texture to the music. The rhythm section of Tina Weymouth on bass and Chris Frantz on drums provides a solid foundation, driving the songs forward with precision and energy.
Lyrically, "Talking Heads 77" explores themes of alienation, social anxieties, and the complexities of modern life. David Byrne's observational and often quirky lyrics provide a distinctive voice that resonates with listeners. Songs like "No Compassion" and "Tentative Decisions" delve into personal insecurities and uncertainties, while tracks like "The Book I Read" and "New Feeling" showcase the band's ability to tackle broader societal issues.
The production on "Talking Heads 77" is clean and uncluttered, allowing the band's unique instrumentation and Byrne's distinct vocals to shine. The album has a raw and energetic quality that captures the band's live energy while still maintaining a polished sound. Producer Tony Bongiovi effectively captures the band's live essence and enhances their distinct musical style.
"Talking Heads 77" is a seminal album that marked the beginning of a remarkable career for the band. Its fusion of art-rock, new wave, and punk influences set the stage for their subsequent groundbreaking work. The album's innovative songwriting, tight musicianship, and David Byrne's charismatic presence established Talking Heads as one of the most important and influential bands of the era.
Overall, "Talking Heads 77" is a remarkable debut album that showcases the band's unique sound, intelligent songwriting, and charismatic frontman. It remains a timeless and essential record that encapsulates the spirit of the late 1970s post-punk and new wave movements. With its blend of catchy melodies, distinctive rhythms, and thought-provoking lyrics, "Talking Heads 77" solidified Talking Heads' place as innovators in the realm of alternative rock.
This post has already been read 61 times!