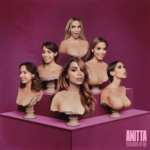 Anitta's album "Versions of Me" is a stunning showcase of the Brazilian singer's immense talent and versatility. Released with the intention of attracting attention from international record labels, this album truly captures Anitta's ambition and determination to achieve global success.
Executive produced by Ryan Tedder, the album features collaborations with renowned artists such as Cardi B, Khalid, and Saweetie. Anitta's willingness to experiment with different genres and languages is evident in this trilingual affair, incorporating Portuguese, Spanish, and English.
The album kicks off with a bang, starting strong with reggaeton and funk carioca influences. Anitta's infectious energy and charisma shine through as she effortlessly blends power-pop, reggaeton, and more, creating a unique and captivating sound.
One standout track is "Envolver," which became Anitta's highest-charting song on the Billboard Hot 100. This track exemplifies her ability to create catchy and irresistible music that resonates with audiences worldwide.
"Versions of Me" explores themes of personal freedom, sex, and gender, reflecting Anitta's journey of self-discovery and growth. The album delves into different sides of herself and emotions, showcasing her willingness to be vulnerable and open.
While the album may not be entirely cohesive, Anitta's ambition and meticulous production ensure that each track stands on its own. From the infectious beats of reggaeton to the introspective moments of alt-R&B, the album takes listeners on a journey through Anitta's musical versatility.
Anitta's goal of mixing Brazilian funk with international pop is evident throughout the album. By incorporating references to Brazilian culture, she successfully promotes her heritage while gaining global recognition. This fusion of different musical influences is a testament to Anitta's artistry and ability to create music that transcends borders.
"Versions of Me" is not only an album, but a statement. Anitta aims to break away from Latinx clichés and stereotypes, showcasing her understanding of the real role music plays in reaching a global audience. Her ambition and charisma shine through in every track, captivating listeners and leaving a lasting impression.
In conclusion, Anitta's album "Versions of Me" is a testament to her immense talent as a Brazilian singer and performer. With meticulous production, a blend of reggaeton, pop, and EDM influences, and collaborations with renowned artists, this album is a true masterpiece. It explores themes of personal freedom, sex, and gender, while promoting Brazilian culture and gaining global recognition. Anitta's artistry and ability to create infectious music that resonates worldwide is undeniable. "Versions of Me" is a must-listen for music lovers everywhere.
This post has already been read 35 times!