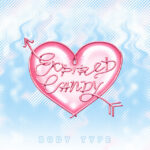 Body Type's second album, "Expired Candy," is a captivating and thought-provoking listening experience that showcases the band's evolution while staying true to their unique sound. Released on June 2nd, 2023, under the Poison City label, the album presents a new looseness compared to their debut, "Everything is Dangerous But Nothing's Surprising".
"Expired Candy" serves as a love letter to the band itself, highlighting the tight-knit friendship and distinctive songwriting styles of the Sydney quartet. The album exudes a greater sense of freedom and mischief, with songs that have a pop influence and are shorter and sharper. Drawing inspiration from female-fronted punk bands of the '90s and '00s, Body Type's irreverence and catchy melodies shine through.
Lyrically, the album explores a range of themes, from stream of consciousness to vivid poetry. It touches on more romantic aspects, portraying relaxed and comfortable relationships through sweet and heartfelt lyrics. The combination of varied and fascinating lyrics, along with the band's signature sound, creates a compelling and enjoyable musical journey.
Overall, "Expired Candy" is a strong second album that combines fury and fun, solidifying Body Type's place in the indie rock scene. Fans of the band, as well as newcomers, will be enchanted by the band's growth and the album's infectious energy. With its mix of pop sensibility, punk attitude, and captivating lyrics, "Expired Candy" is a testament to Body Type's continued artistic prowess.
This post has already been read 32 times!