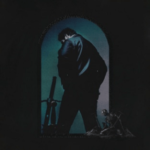 Post Malone's album "Hollywood's Bleeding," released in 2019, is a genre-blending masterpiece that showcases his versatility as an artist and his ability to create infectious and emotionally resonant music. With this album, Post Malone continues to push the boundaries of hip-hop and pop, delivering a collection of tracks that blend elements of rap, rock, and R&B to create a cohesive and captivating sound.
The album opens with the title track "Hollywood's Bleeding," a haunting and atmospheric song that sets the tone for the rest of the record with its introspective lyrics and emotional delivery. The song immediately draws listeners into Post Malone's world, a world where success and fame come with their own set of challenges and sacrifices.
One of the standout tracks on the album is "Circles," a melodic and bittersweet song that became a massive hit. The song's catchy chorus and Post Malone's emotive vocals make it a defining moment of the record and a fan-favorite.
Throughout "Hollywood's Bleeding," Post Malone's songwriting is honest and introspective, with tracks like "Goodbyes" and "Die For Me" delving into themes of heartbreak, love, and the complexities of relationships. The album's lyrics are vulnerable and relatable, reflecting Post Malone's ability to connect with his audience on a deep emotional level.
Another highlight of the album is "Sunflower," a collaboration with Swae Lee that was featured in the movie "Spider-Man: Into the Spider-Verse." The song's upbeat and sunny vibe provides a refreshing contrast to the more melancholic tracks on the album.
"Hollywood's Bleeding" also features impressive musical arrangements, with a mix of trap beats, rock guitars, and R&B-inspired melodies that create a unique and dynamic sound. The album's production is polished and contemporary, allowing Post Malone's distinct voice to shine and adding depth to his storytelling.
In addition to its compelling lyrics and musical arrangements, "Hollywood's Bleeding" stands out for Post Malone's authentic and emotionally charged presence. The album is a reflection of his own experiences and emotions, making it a deeply personal and relevant work of art.
In conclusion, Post Malone's "Hollywood's Bleeding" is a genre-blending masterpiece that showcases his exceptional talent as a musician and songwriter. With its infectious melodies, emotionally resonant lyrics, and themes of fame and vulnerability, the album remains a standout work in the hip-hop and pop genres and a testament to Post Malone's status as a boundary-pushing artist in the music industry. "Hollywood's Bleeding" is a must-listen for Post Malone fans and anyone looking for an album that combines genre-bending experimentation with raw emotion and artistry, and it stands as one of the most significant albums of 2019.
This post has already been read 28 times!