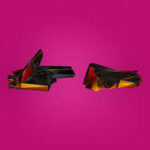 Run The Jewels' album "RTJ4," released in 2020, is a powerful and politically charged masterpiece that solidifies their status as one of the most influential and relevant hip-hop duos of our time. With this album, Killer Mike and El-P deliver a blistering and socially conscious collection of songs that address issues of systemic racism, police brutality, and social injustice.
The album opens with the track "yankee and the brave (ep. 4)," a high-energy and intense song that immediately grabs the listener's attention with its fiery lyrics and hard-hitting beats. The song sets the tone for the rest of the record, showcasing Run The Jewels' unapologetic and unyielding approach to addressing important social issues.
One of the standout tracks on the album is "walking in the snow," a poignant and timely song that addresses police violence and racial inequality. The song's powerful lyrics and impactful delivery make it a defining moment of the record.
Throughout "RTJ4," Run The Jewels' songwriting is sharp and thought-provoking, with tracks like "JU$T" and "ooh la la" tackling themes of economic inequality and the corrupting influence of money and power. The album's lyrics are clever and politically charged, reflecting the duo's commitment to using their platform to speak out against injustice.
Another highlight of the album is "A Few Words for the Firing Squad (Radiation)," a soulful and introspective track that delves into personal struggles and the search for hope amidst adversity. The song's emotional depth and introspective lyrics make it a standout moment on the record.
"RTJ4" also features impressive musical arrangements, with a blend of hard-hitting beats, gritty production, and powerful guest appearances that create a dynamic and immersive sound. The album's production is masterful, allowing Run The Jewels' powerful vocals and the impactful instrumentals to shine.
In addition to its compelling lyrics and musical arrangements, "RTJ4" stands out for its thematic coherence and Run The Jewels' authentic and unapologetic presence. The album is a rallying cry for social change and a call to action, making it a timely and important work of art.
In conclusion, Run The Jewels' "RTJ4" is a powerful and politically charged album that showcases their exceptional talent as hip-hop artists and activists. With its sharp lyrics, hard-hitting beats, and themes of social justice and empowerment, the album remains a standout work in the hip-hop genre and a testament to Run The Jewels' status as one of the most influential and respected duos in the music industry. "RTJ4" is a must-listen for Run The Jewels fans and anyone looking for an album that fearlessly addresses important social issues and advocates for change in a captivating and impactful way, and it stands as one of the most significant albums of 2020.
This post has already been read 23 times!