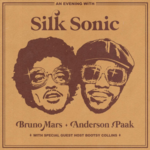 Silk Sonic's debut album "An Evening With Silk Sonic," released in 2021, is a timeless and soulful record that pays homage to the classic sounds of R&B and funk. Comprised of the powerhouse duo Bruno Mars and Anderson .Paak, Silk Sonic delivers a masterful and electrifying collection of songs that ooze with charisma and musical brilliance.
The album opens with the track "Leave the Door Open," a sultry and seductive ballad that sets the tone for the rest of the record with its smooth vocals, lush instrumentation, and vintage vibe. The song immediately transports listeners to a bygone era of soulful R&B.
One of the standout tracks on the album is "Skate," an infectious and groovy ode to fun and dancing. The song's funky bassline, funky guitar riffs, and irresistible chorus make it a defining moment of the record.
Throughout "An Evening With Silk Sonic," the duo's songwriting is nostalgic and romantic, with tracks like "After Last Night" and "Put On a Smile" exuding a sense of old-school charm and genuine emotion. The album's lyrics are poetic and heartfelt, showcasing the duo's ability to capture the essence of love and relationships.
Another highlight of the album is "Blast Off," a high-energy and playful track that features a collaboration with legendary musician Bootsy Collins. The song's infectious energy and dynamic arrangements make it a standout moment on the record.
"An Evening With Silk Sonic" also features impressive musical arrangements, with a blend of R&B, funk, and soul influences that create a rich and textured sound. The album's production is immaculate, capturing the essence of the classic Motown era while infusing it with modern sensibilities.
In addition to its compelling lyrics and musical arrangements, "An Evening With Silk Sonic" stands out for the duo's undeniable chemistry and authentic and charismatic presence. Mars and .Paak's vocals complement each other perfectly, and their playful banter and onstage camaraderie shine through in the album's recordings.
In conclusion, Silk Sonic's "An Evening With Silk Sonic" is a timeless and soulful album that pays homage to the golden era of R&B and funk. With its smooth vocals, infectious grooves, and themes of love and romance, the album is a modern-day classic that appeals to music lovers of all generations. "An Evening With Silk Sonic" is a must-listen for fans of soulful R&B and funk and anyone looking for an album that transports them to a world of musical enchantment and pure enjoyment. It stands as one of the most significant and enjoyable albums of 2021.
This post has already been read 29 times!