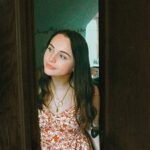 "Better Than I've Been" is the highly anticipated debut album by singer-songwriter Kat Hammock. Hailing from Encinitas, California, Kat gained recognition for her appearance on Season 17 of NBC's "The Voice". This album showcases her growth as an artist and her ability to captivate listeners with her soulful vocals and heartfelt lyrics.
From the opening track to the closing notes, "Better Than I've Been" instantly welcomes you into Kat's world of introspection and vulnerability. The album's cathartic atmosphere is enhanced by the seamless blend of acoustic and electronic elements, creating a unique sonic landscape that perfectly complements Kat's emotive storytelling.
One of the standout features of this album is Kat's honest lyricism. Each song feels like a window into her thoughts and experiences, allowing the listener to connect with her on a deep level. Whether she's exploring themes of love, self-discovery, or personal growth, Kat's lyrics are relatable and introspective, resonating with anyone who has ever faced challenges or sought to find their true selves.
Musically, "Better Than I've Been" showcases Kat's versatility as an artist. The album effortlessly transitions between stripped-down, intimate ballads and more upbeat, catchy tracks. The melodies are infectious, and the production is polished without sacrificing the raw emotion at the core of each song.
The musicianship displayed on this album is impressive. Kat's voice soars with a delicate yet powerful grace, effortlessly conveying the emotional depth of her lyrics. The instrumentals are tastefully arranged, with each note serving a purpose in enhancing the overall sonic experience.
"Better Than I've Been" solidifies Kat Hammock's position as a rising star in the singer-songwriter genre. Her talent, authenticity, and ability to craft captivating songs are evident throughout the album. It is a testament to her artistry and a promising introduction to what we can expect from her in the future.
In conclusion, "Better Than I've Been" is a remarkable debut album that showcases Kat Hammock's immense talent as a singer-songwriter. With its honest lyrics, captivating melodies, and exceptional musicianship, this album is a must-listen for fans of heartfelt and introspective music. Kat Hammock has undoubtedly established herself as a promising artist to watch in the music industry
This post has already been read 37 times!