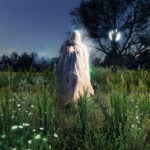 Noah Cyrus's debut full-length album, "The Hardest Part," has garnered positive reviews from critics for its powerful lyrics, catchy melodies, and emotional depth.  The album opens with the track "Noah (Stand Still)," which sets the tone for the emotionally resonant collection of songs that follow. The song starts with a stark lyric that immediately grabs the listener's attention, showcasing Cyrus's vulnerability and introspection
The album walks the line between modern acoustic pop and classic country, drawing inspiration from Cyrus's Nashville-steeped upbringing.
It seamlessly blends elements of modern pop and country, creating a unique and captivating sound. "The Hardest Part" is an album that delves into Cyrus's personal experiences, including the death of her grandmother, her parents' romantic problems, and her own addiction to and recovery from Xanax. The album is unflinching in its exploration of difficult moments, but also offers a message of healing and appreciation for life
The lyrics on the album are powerful and heartfelt, touching on themes of self-reflection, resilience, and growth. Cyrus's songwriting shines through, with her ability to convey complex emotions in a relatable and accessible way. The album's attention to detail and exceptional vocal delivery make it a standout debut. Cyrus's vocals are captivating and emotive, adding depth and sincerity to the songs
"The Hardest Part" is a compact yet emotionally resonant collection of songs that harken back to Laurel Canyon-recalling pop. The album showcases Cyrus's growth as an artist and her ability to connect with listeners on a deep level.
Overall, "The Hardest Part" has been praised as a debut album that exceeds expectations. It is a culturally relevant and emotionally impactful album that showcases Cyrus's talent and potential as an artist
In conclusion, "The Hardest Part" is a powerful and emotionally charged debut album from Noah Cyrus. With its blend of modern pop and country influences, heartfelt lyrics, and exceptional vocal delivery, the album leaves a lasting impression. Cyrus's ability to convey complex emotions and connect with listeners shines through, making "The Hardest Part" a standout release.
This post has already been read 25 times!